AQUAELITE offers advanced solutions with the aim of conveying multi-sensorial shower experiences. Real answers to the search for well-being, always with a focus on the environment.
Progress and well-being combine with the environmental dimension with the prospect of leaving future generations a quality of life that is not inferior to the present one.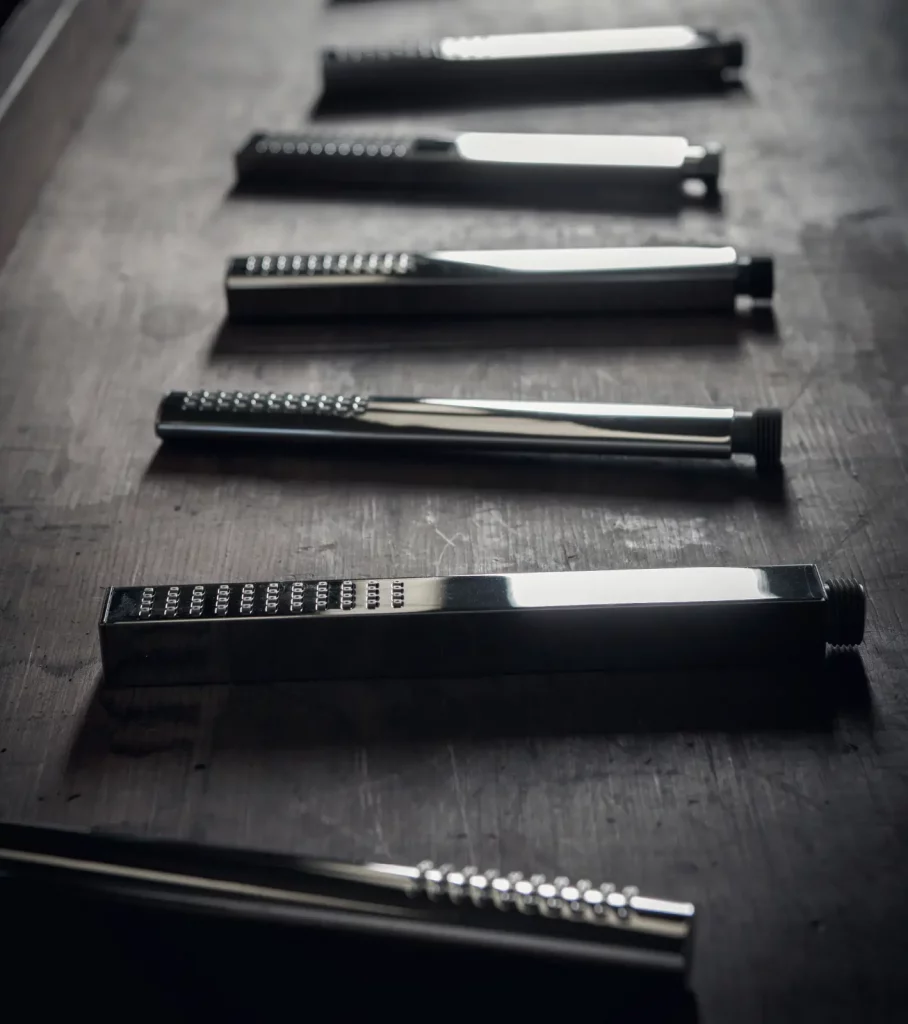 MULTI-JETS
Multi function shower, up to four different water jets in the same product.
Rain / cascade / mist / laminar different intensity and sensation on the skin.
ANTI-LIMESTONE
Advanced rubber membrane system with anti-scale solution. Conical section nozzles prevent deposits inside the cartridges, making it easier to clean and restore optimal water jet.
POWER BULB
3 watt power Led light with low voltage 12v. Equipped with optical lenses to improve light effect till the shower tray. Waterproof Led bulb for maximum safety.
ELECTRONIC DIVERTER
Remote controller with two button, Led lights control and electronic diverter to select water function. Single button to switch between up to 3 different water jets. Easier installation with single water inlet on electrovalves kit.
REMOTE CONTROLLER
Led lights control with waterproof button to install inside the shower cabin. Led ring effect on the button for easy localization also with bathroom's light switched off.
ON/OFF SYSTEM
Basic electronic for Led lights set for standard switch to install outside shower cabin. Led light effects with automatic colours changing. Ideal solution for hotels, SPA and wellness center.
The concept of sustainability emerges with a more global meaning, involving not only the ecological but also the economic and social spheres. The functionality of the product becomes the main theme against the issue of environmental preservation. Demonstrating this renewed love for ethics and sustainability, we are bringing back craftsmanship, as well as the constant search for eco-friendly solutions. Our Aquaelite Lab works daily on new advanced systems to be implemented in both new and existing collections to improve their functionality and water-saving performance. So as to guarantee maximum well-being during the shower, while minimising waste.
ANTI-DROP
Water stop system to avoid leaking from the shower after closing the mixer. This allow to stay inside the cabin after having a shower to dry yourself in warmer place without any problem.
AQUA RING
Water distribution system inside the shower to improve performance in any water pressure condition. Better water jet and saving consumption even on big sizes products.
INSPECTIONABLE CARTRIDGE
Our AQUAELITE LAB research department design a functional component, the cartridge, that guarantees advantages in term of user comfort, water saving and extended lifetime of the product. The cartridge is the heart of all our showers in ABS, stianless steel and brass for wall and ceiling installation.