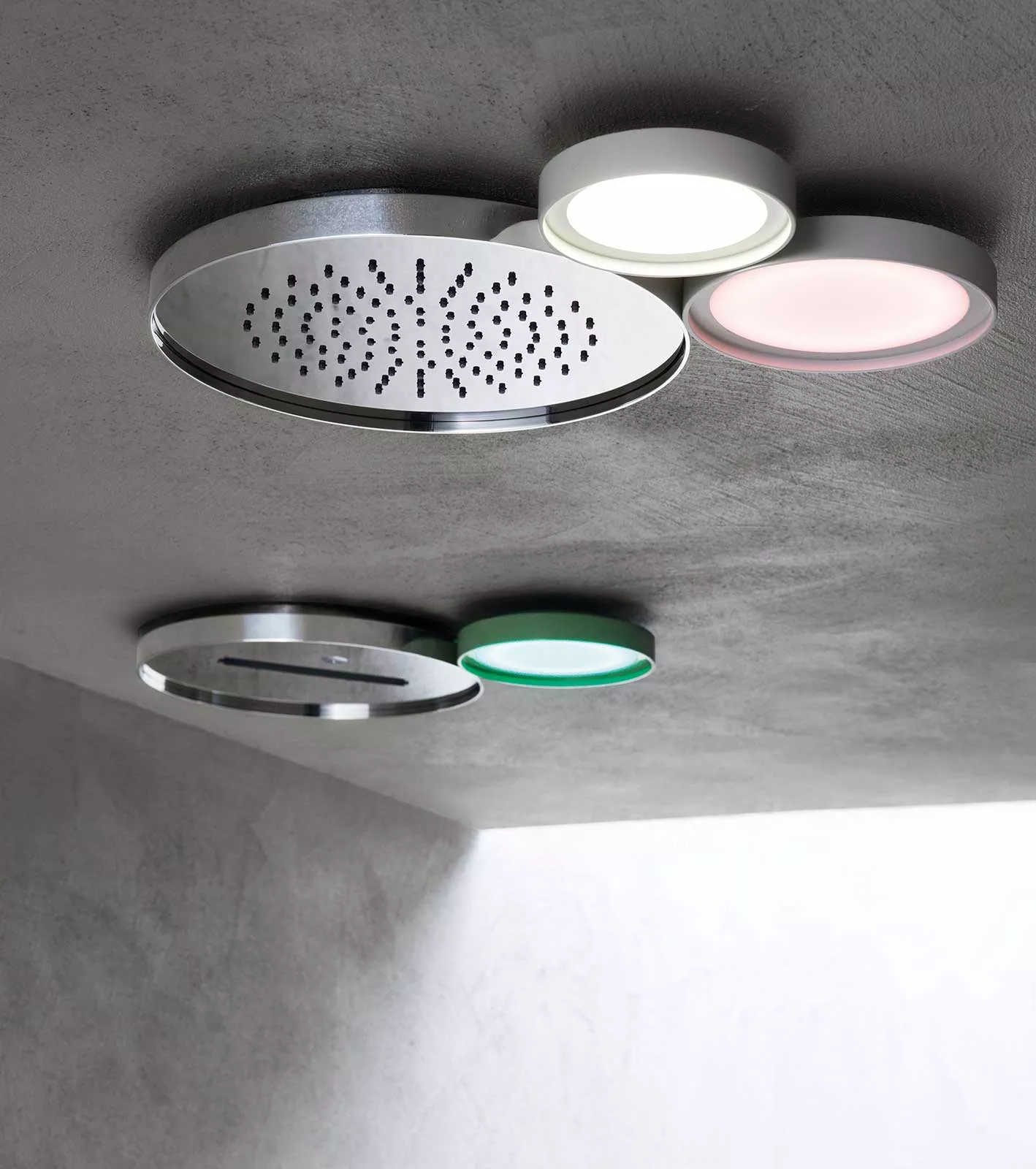 Nature, beauty and purity – AQUAELITE presents the Ninfea collection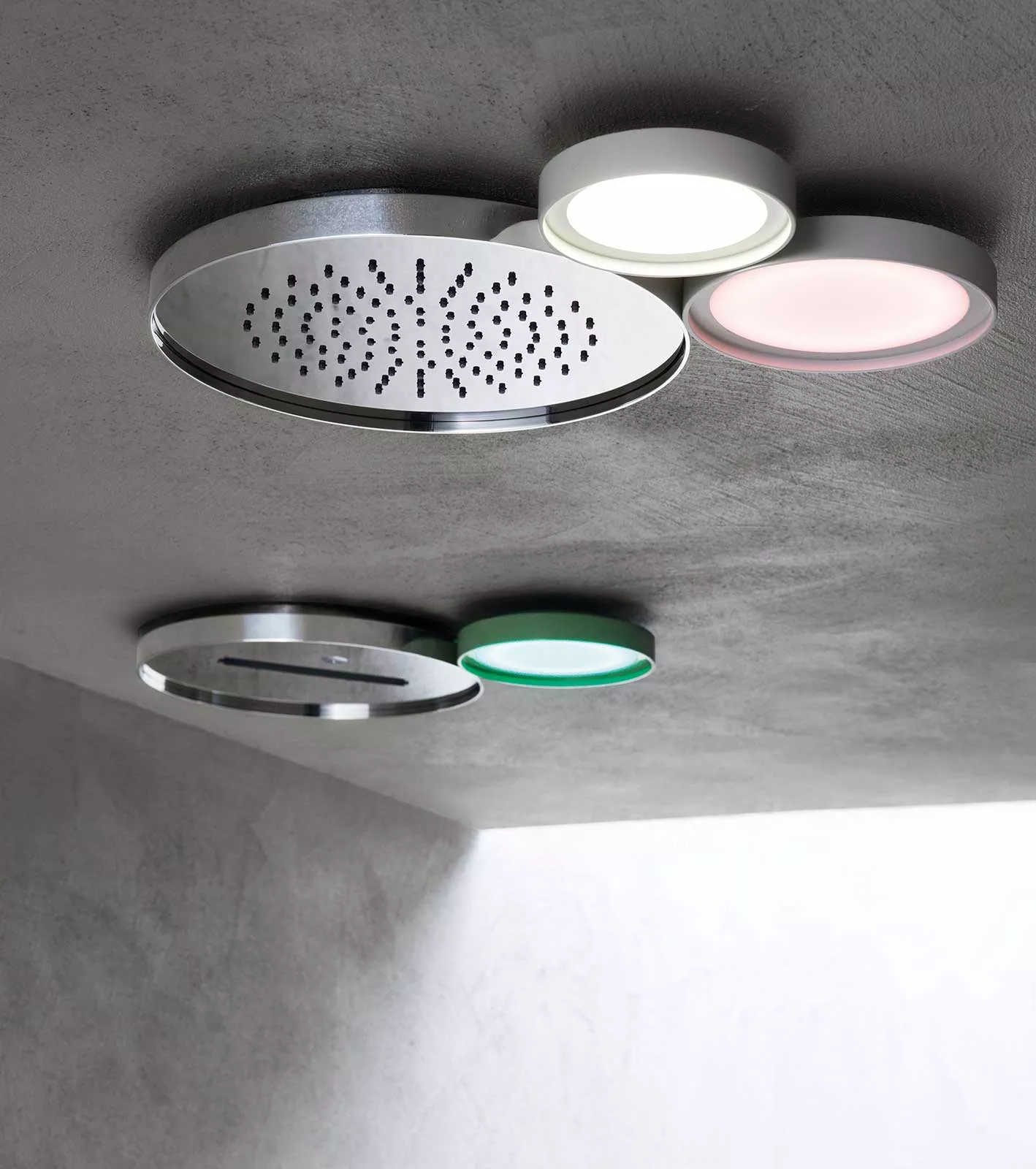 AQUAELITE's NINFEA collection designed by Alessandro Canepa.
The Ninfea Collection is the brainchild of designer Alessandro Canepa. A new concept, a new way of living the shower experience: the functions of the traditional dandelion are broken down and rearranged at will just like the leaves of a water lily. The collection is designed for private and Spas.
Nature, with its beauty and purity, becomes an inspiring motif for its realization. Born in 1975, Alessandro Canepa is a Milanese designer known for his "no-fuss" approach to design. Endowed with marked attention to detail and a natural tendency to analyze one's surroundings in search of beauty in the simplicity of things.
The collection
Ninfea, the bathroom collection born under the banner of well-being. The new multifunctional shower head has everything special: the traditional showerhead is transformed into a true experience complete with chromotherapy, rain shower, waterfall shower, steamer and music. Its decomposed form has of particular note that it can be divided into six different components, each of which has a specific function: just like the large round leaves of water lilies, there are different sizes, colors, finishes. All of these are integral parts that can be assembled together in many different ways, while at the same time creating a true modularity with a different choice of water jets (rain, cascade, mist), lights (a choice of white lights and colored lights), and sounds (speakers available that can be connected to any device by Bluetooth).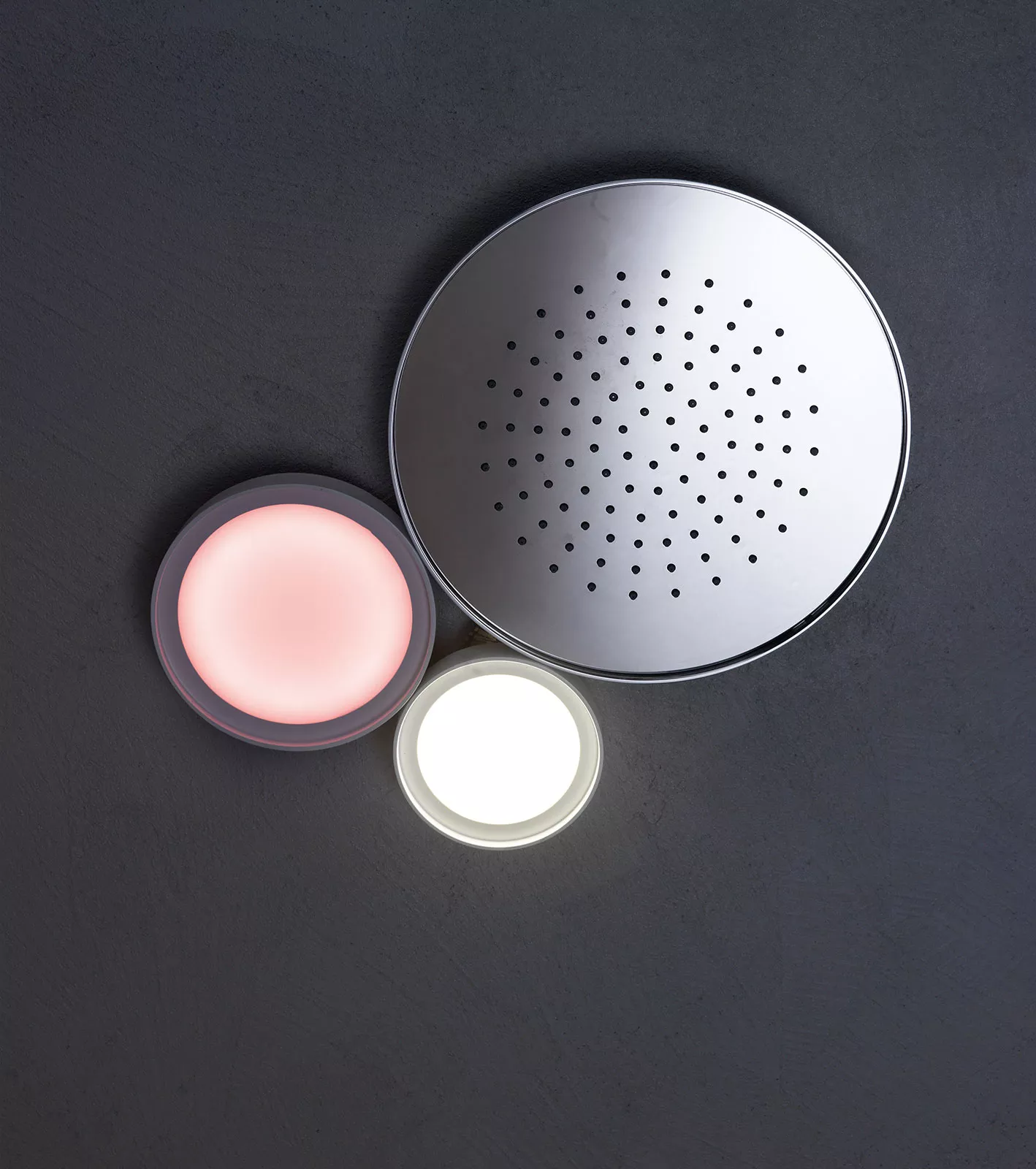 The design of the elements borrows the elegance of water lilies and the details of luxury spas. The extreme simplification of the shower head's aesthetics does not detract from its functionality, but rather enhances its forms by amplifying the feelings of well-being.
Sophisticated design and thoughtful details can be seen in all the elements that make up the collection: ceiling-mounted showerheads, wall-mounted showerheads, shower sets, lamps with round buttons and side jets. All for a five-star cabin where you can enjoy a complete sensory experience.
Why we chose it
Synthesis of efficient production processes, reduction of water waste, and use of materials such as steel for noble parts and plastic for technical parts. The 100% Made in Italy products are the result of continuous research and the use of cutting-edge technology. Ninfea offers the same experience that can be had inside a luxury spa.
Ceiling shower heads
SF122 A is a ø300 ceiling-mounted shower head. Single-jet sprinkler and G1/2″ inlet.
It features a rain-effect water-spout showerhead with anti-drip technology and AQUAring to ensure high performance with limited water consumption. The anti-scale system is integrated. Available finishes are: polished steel, matte white, matte black.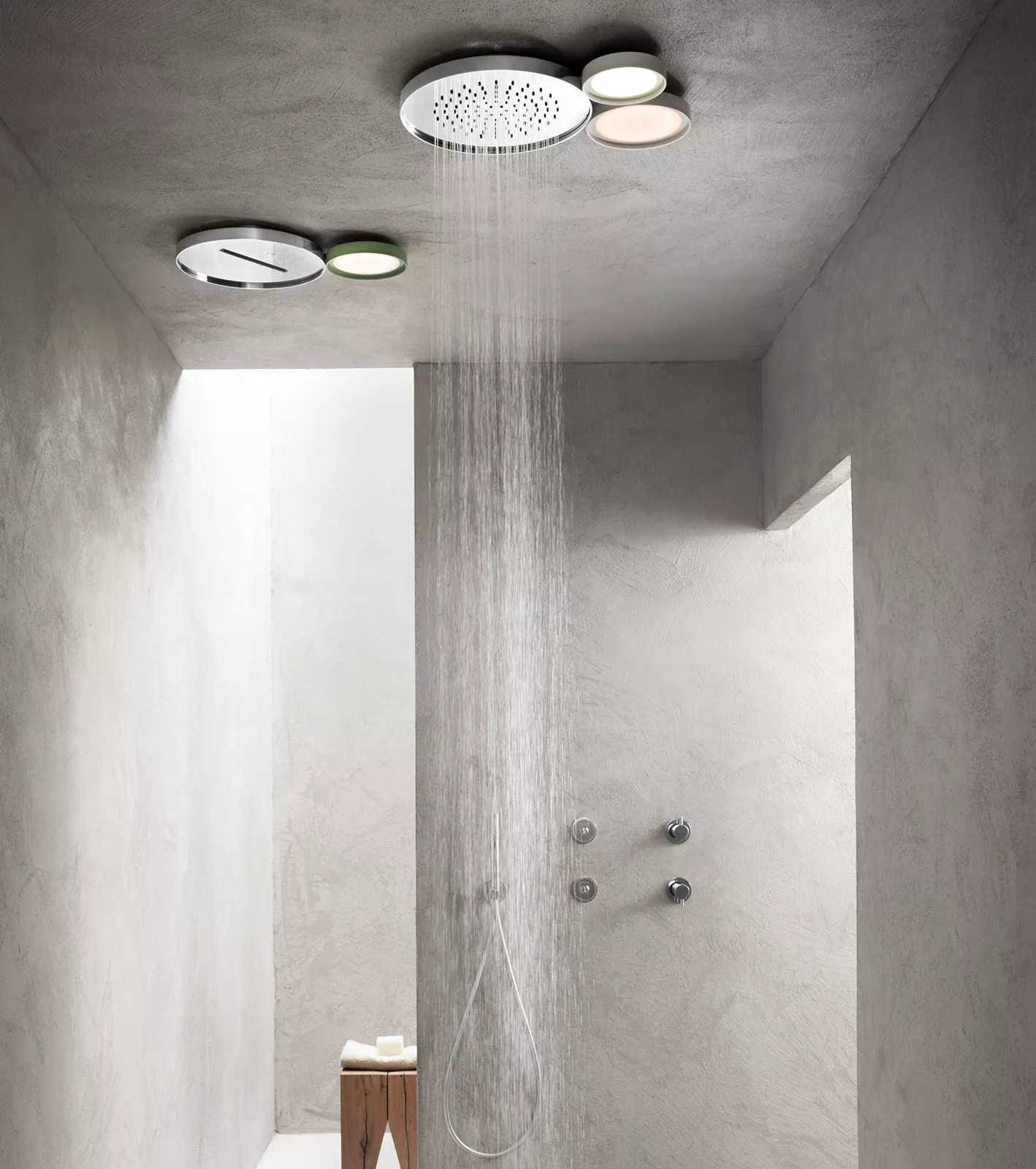 SF123 A differs from its predecessor in that it has a single cascade jet. The latter is not equipped with an anti-scale system. The available finishes are the same.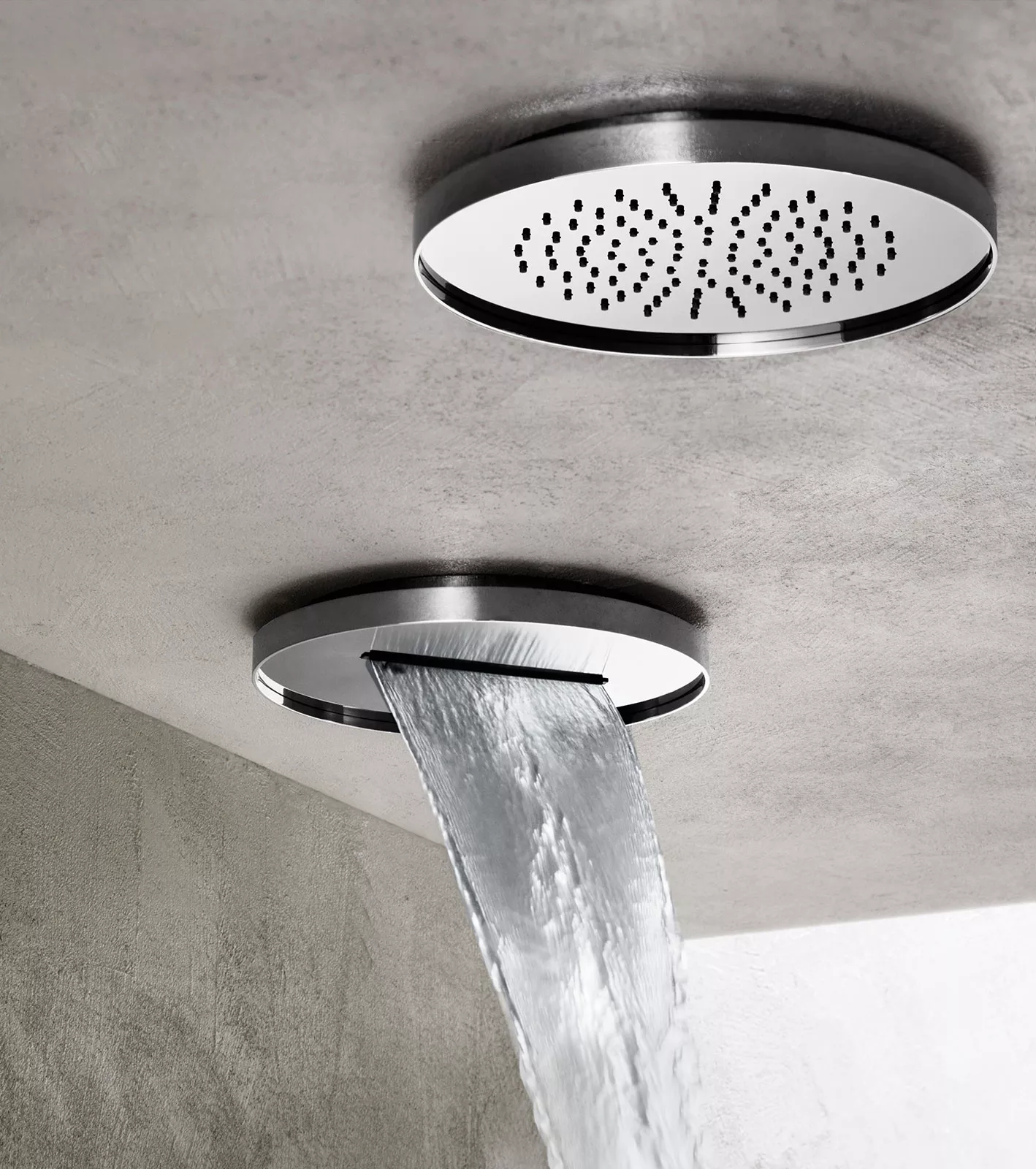 SF124 A is the right choice when you want a shower head with multifunctional cascade and misting spray.
If, on the other hand, you prefer a ceiling-mounted shower head, still single-jet but with 3 water columns coming from above, then the right choice falls on the SF125 A model.
The same version is also offered in a single-jet version with 3 atomizing jets: model SF128 A.
This collection doesn't miss a thing, not even the SF126 A model with ceiling-mounted showerhead and music speaker with built-in Bluetooth for listening to music or the radio from any device. This model is complemented by an ON/OFF switch and low voltage transformers.
Wall-mounted shower heads
SF127 A is the only model in the collection to be a wall-mounted shower head ø 200 mm. Its features? It is a single-jet showerhead with a rain-jet function.
It is available in 3 different compositions and finishes
Polished steel shower head and white lamp
Matt white shower head and green lamp
Matte black shower head with orange lamp.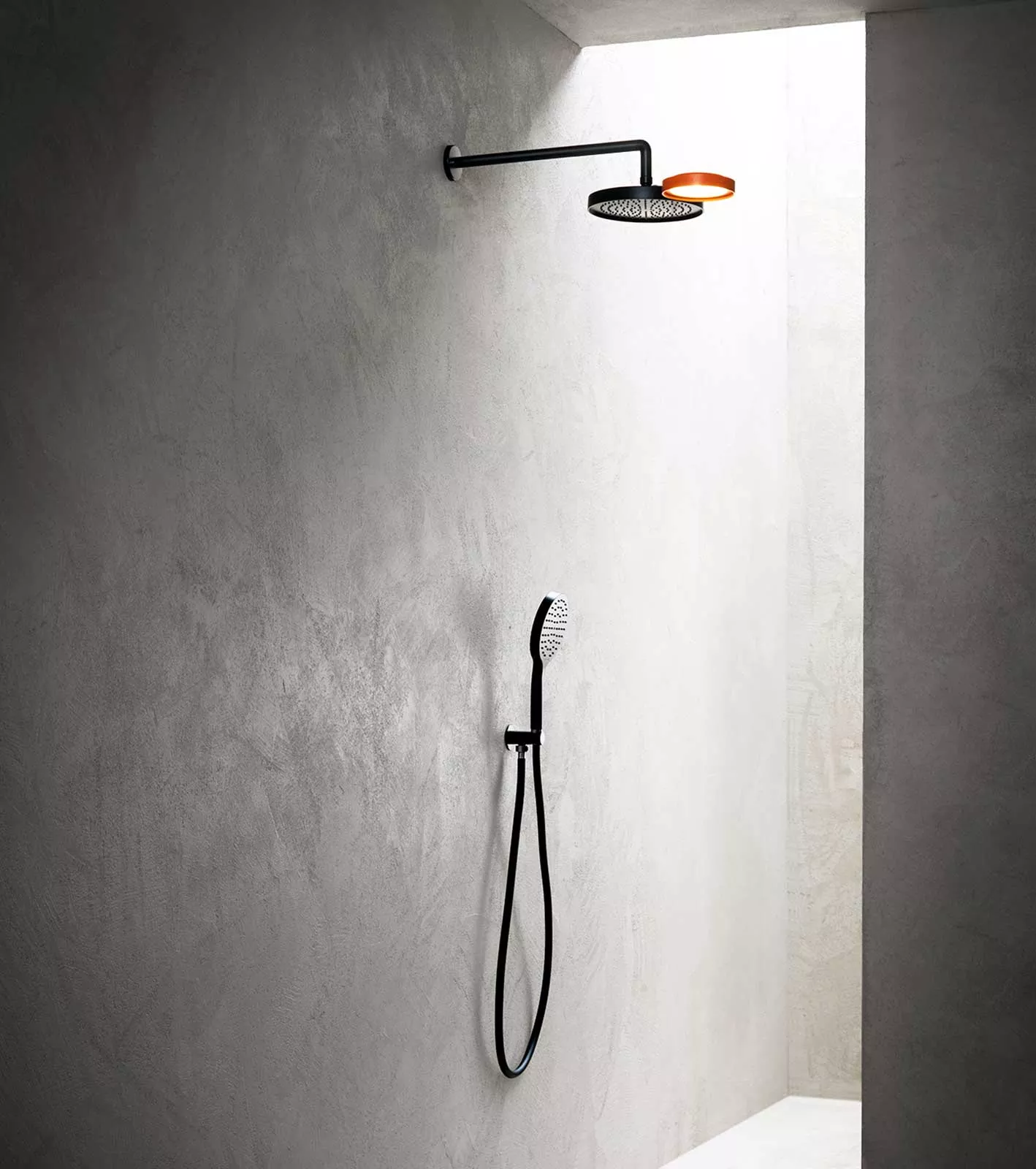 The lights can be controlled through the special hand control panel provided by the company.
Side jets
BJ008 A for a fixed spray side jet, BJ009 A for an articulated spray side jet. Both round with 50 mm diameter and 1/2″ water inlet. Available in chrome, white and matte black finish to complement the style of other bathroom fixtures.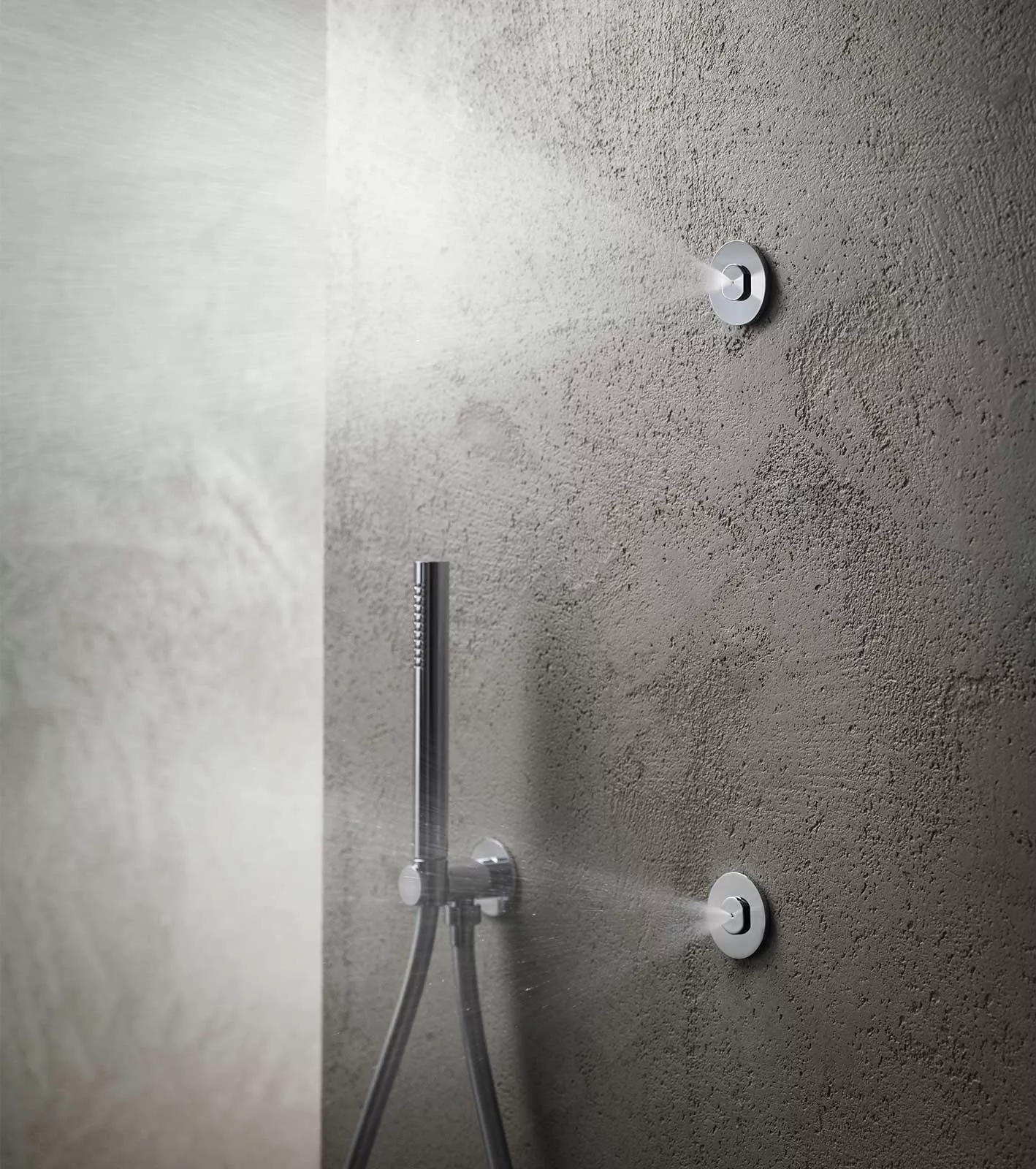 Shower set
SD015 A and SD015 B are hand showers with round and sinuous shapes. The former with 3 jets ø140 mm, the latter single-jet ø140 mm. Both are complemented by water inlet and fixed support with PVC hose 150 centimeters long.
Finally, SD004 D, brass hand shower, available in chrome, matte white, and matte black finishes. Again, the product is equipped with 150-centimeter PVC flexible hose, with ø60 mm round rosette. The gold version is available with FL001A06Q flexible hose.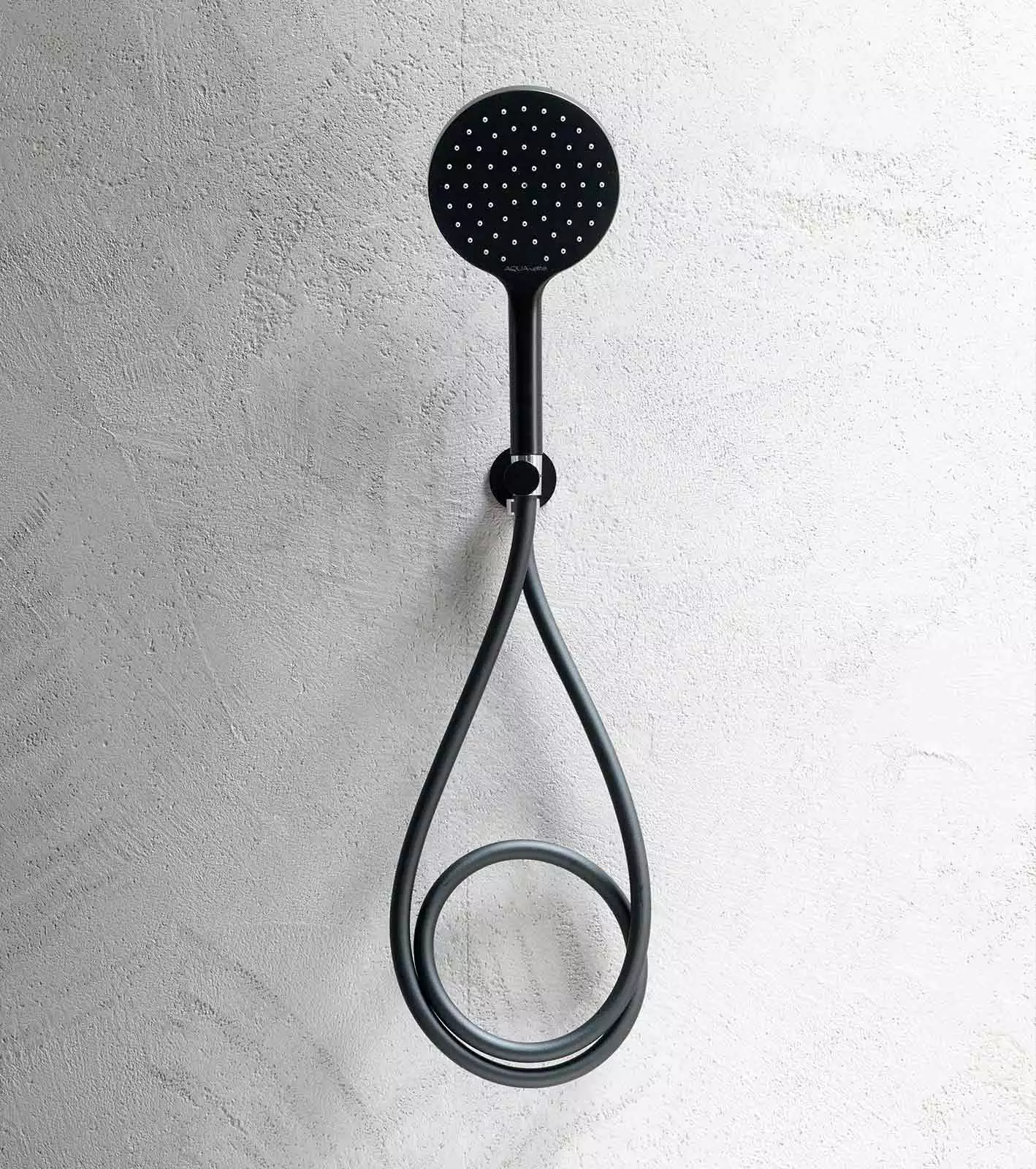 Sliding Rail
Here is the composition of KT042 A: ø 18 mm L. 800 with swivel slider, hand shower ø 140 mm – 3 jets and PVC hose 150 cm.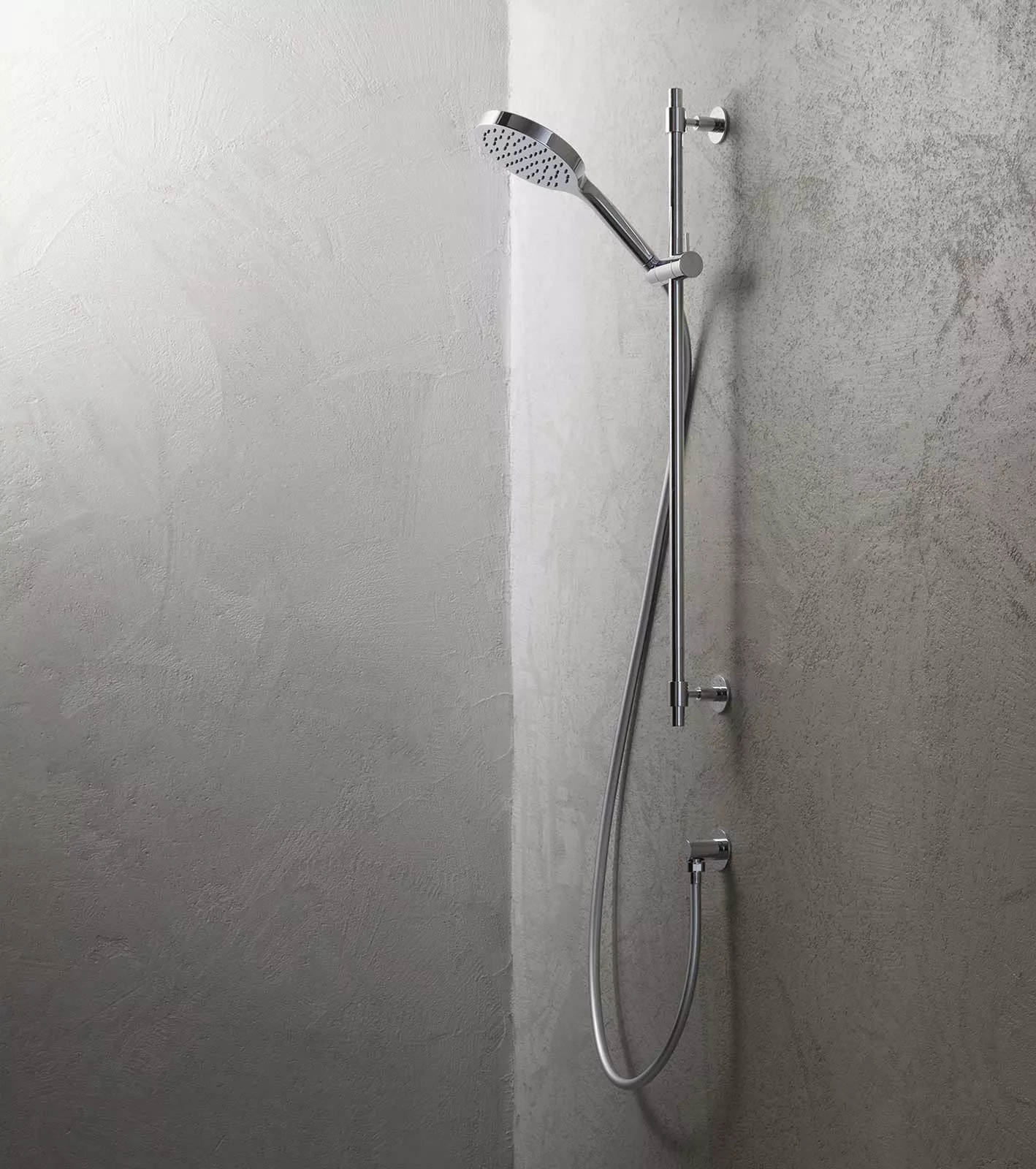 Even architects approve
Up-to-date shapes, water-saving and pleasant casting are all the most appreciated strengths. The clean lines combined with the purity and hygiene of steel are meeting with considerable acclaim.
The reason? Because Ninfea represents a valuable object that exceeds and goes beyond the traditional concept of the shower head.
Would you like to know all available products? Contact us here.
Or check out our products catalogue.