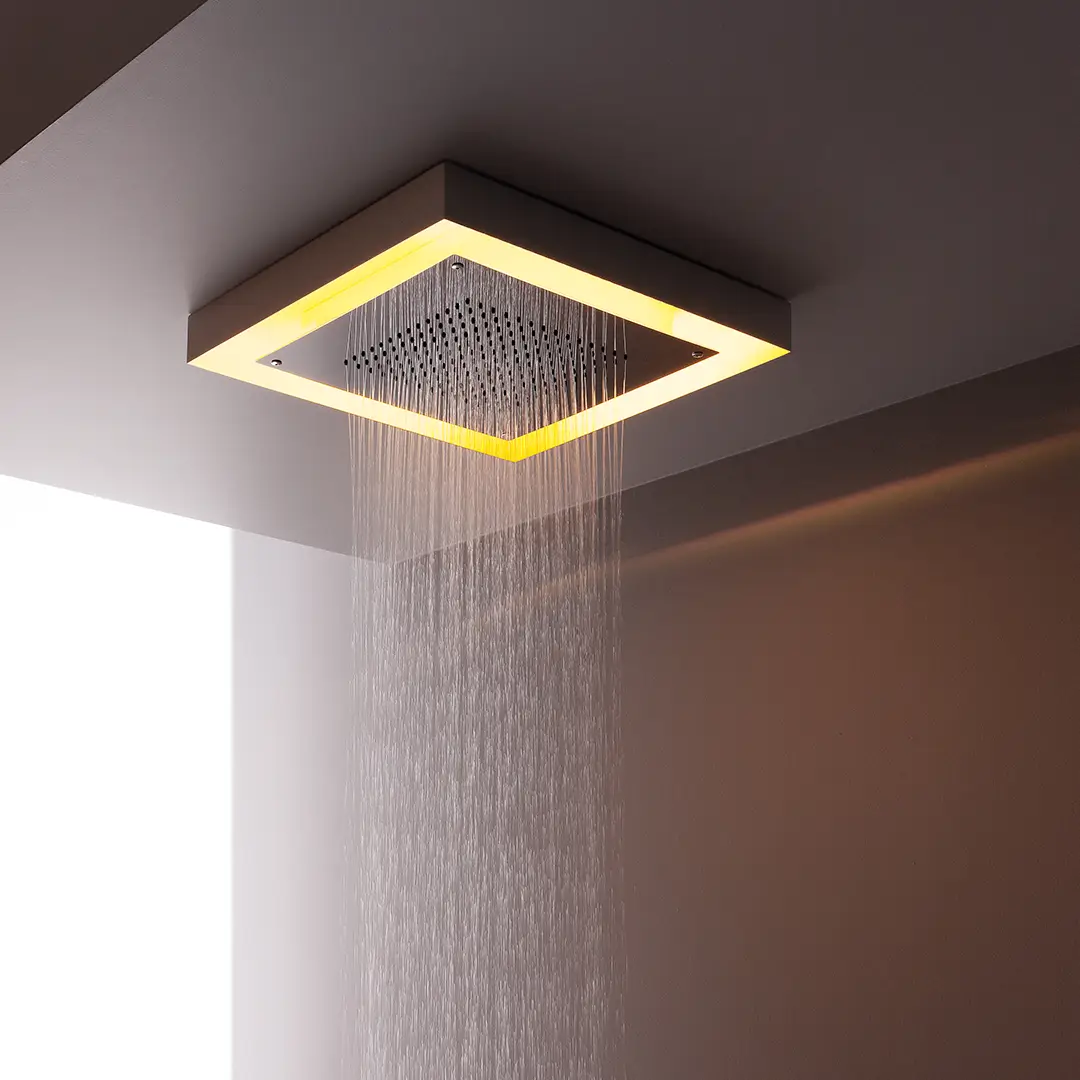 AQUAELITE shower heads with chromotherapy: colours of well-being in the bathroom environment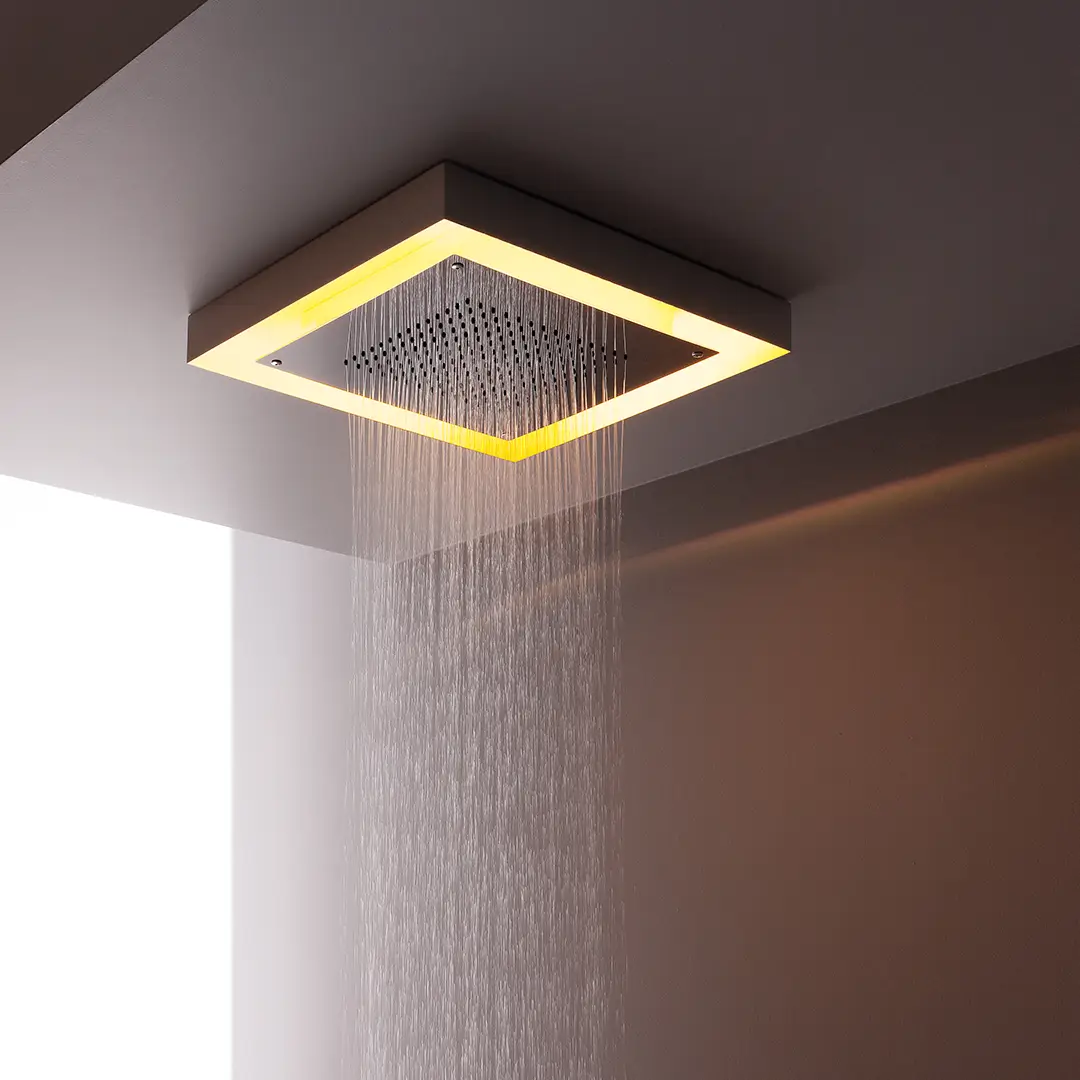 AQUAELITE shower heads with chromotherapy: colours of well-being in the bathroom environment
Chromotherapy is a natural remedy based on the belief and conviction that people's psycho-physical well-being can be influenced by the benefits propagated by colours. More specifically, the basis of colour therapy is the stimulation of the body's self-healing processes, influencing moods.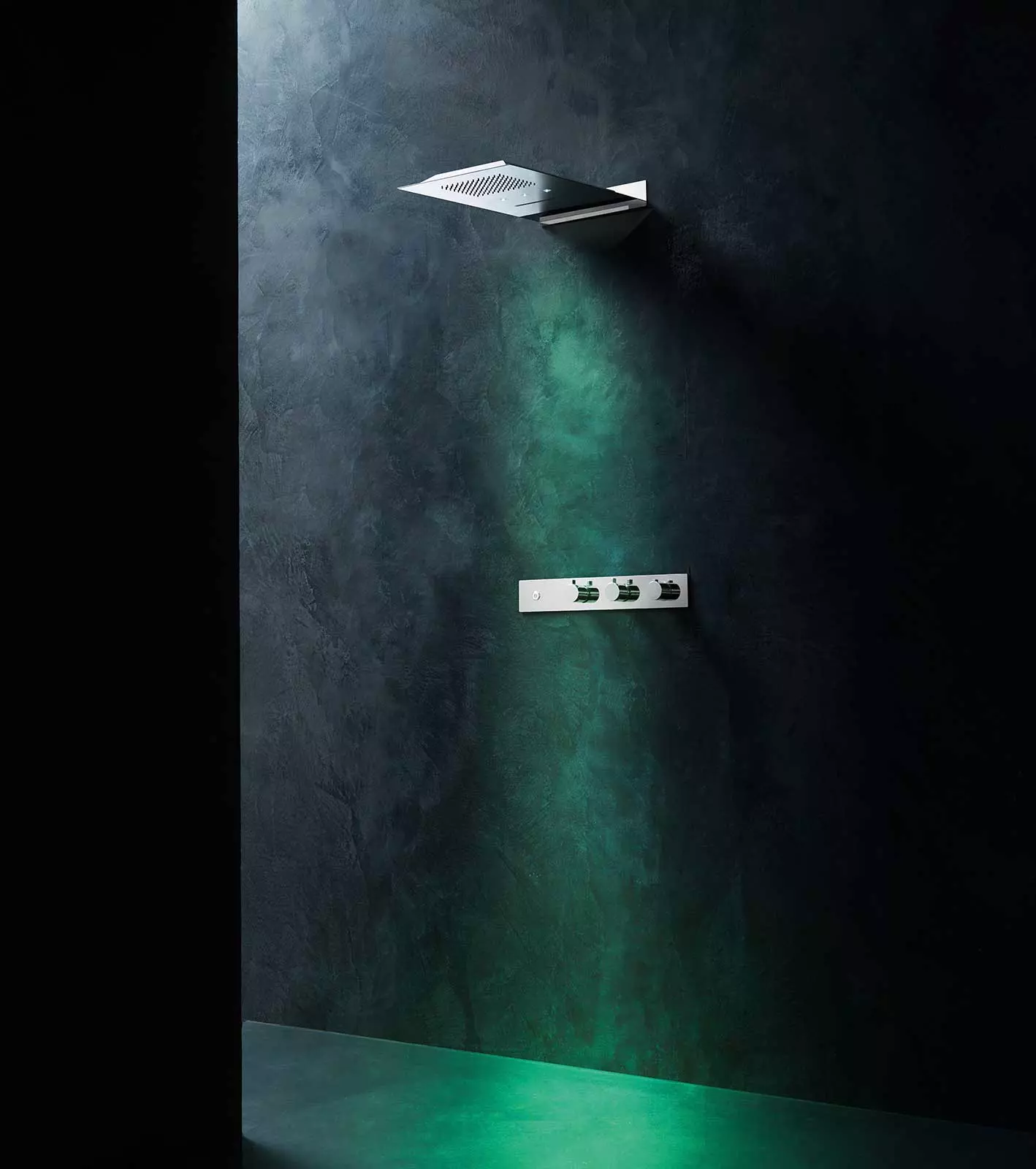 How chromotherapy works

The chromatic vibrations of colours are able to restore balance and relax any nervous tensions accumulated during the day. With the alternation of colours, a kind of irradiation is generated inside the shower cubicle which, thanks to the stimulation of electromagnetic waves with oscillatory frequency, are assimilated by the body. Depending on the colours, the stimulation of vibrations and effects on the body vary.

Colours and their effects

Water and colours combine their benefits to contribute to a person's physical and mental well-being. AQUAELITE shower heads can be equipped with integrated LEDs that transform a simple water jet into a spectacular play of light, beautiful to see as well as to feel. The colours, water and lights can be chosen manually during the shower, or in an automatic cycle. Our shower heads are equipped with an IP67 waterproof button that allows RGB lights to be changed directly inside the shower.
As already mentioned, each colour has a different effect on the body:
> Red, orange and yellow are warm colours, referred to as 'invigorating' colours. The first is the 'stimulating' colour par excellence, raising blood pressure and facilitating muscle relaxation. The other two, on the other hand, are considered 'positive' colours, ideal for promoting the proper functioning of the thyroid gland, boosting the ability to concentrate and also acting on digestive disorders

> Green is a neutral colour. It gives serenity and calm, which is why it is particularly recommended for people who are anxious, highly stressed or suffer from sleep disorders.
> Purple and blue, finally, are cool colours. The former stimulates creativity and inspiration, the latter, on the other hand, is at the opposite extreme to red: it reduces blood pressure, therefore useful for those suffering from ailments such as tachycardia, and relieves inflammation.
Warm colours, reds and yellows, are recommended during the morning hours so that the blood stimulation helps us to face the day in the best possible way. In the evening, on the other hand, it is good to relax mind and body with blues and purples to banish stress and promote sleep.
AQUAELITE and chromotherapy
Produced with 100% Made in Italy materials and the most advanced production techniques, here are all the AQUAELITE elements equipped with chromotherapy offered in various shapes and sizes.
All the false ceiling shower heads in the series are equipped with LED lights for chromotherapy and contain a technological content oriented towards maximum water saving. The collection is defined as 'perfect synthesis', with its square, elegant design and rigorous, geometric lines. The enveloping and relaxing light source of these elements is suitable for both domestic and luxury contract environments.


Modula shower heads are made of stainless steel in two size variants:
> The smallest version, 520×520 mm, is available with a single spray jet or three multifunction jets: rain, water column and mist.
> The larger 620×620 mm version, on the other hand, is available with 3 multifunctional jets: rain, water column and intense rain, or 4: rain, mist, intense rain and waterfall. The latter is combined with the SPA Home thermostatic control, which is equipped with a digital touch screen, automatic SPA programmes installed in the company, or with a rain, spray, mist and heavy rain function to be combined with a manual thermostat.
In common all versions have a large rain jet and in addition different types of jets: soft (spray and mist) or intense (water columns, waterfall and intense rain).
All these features and characteristics allow the elements of the Modula Collection to offer the user maximum comfort and total well-being.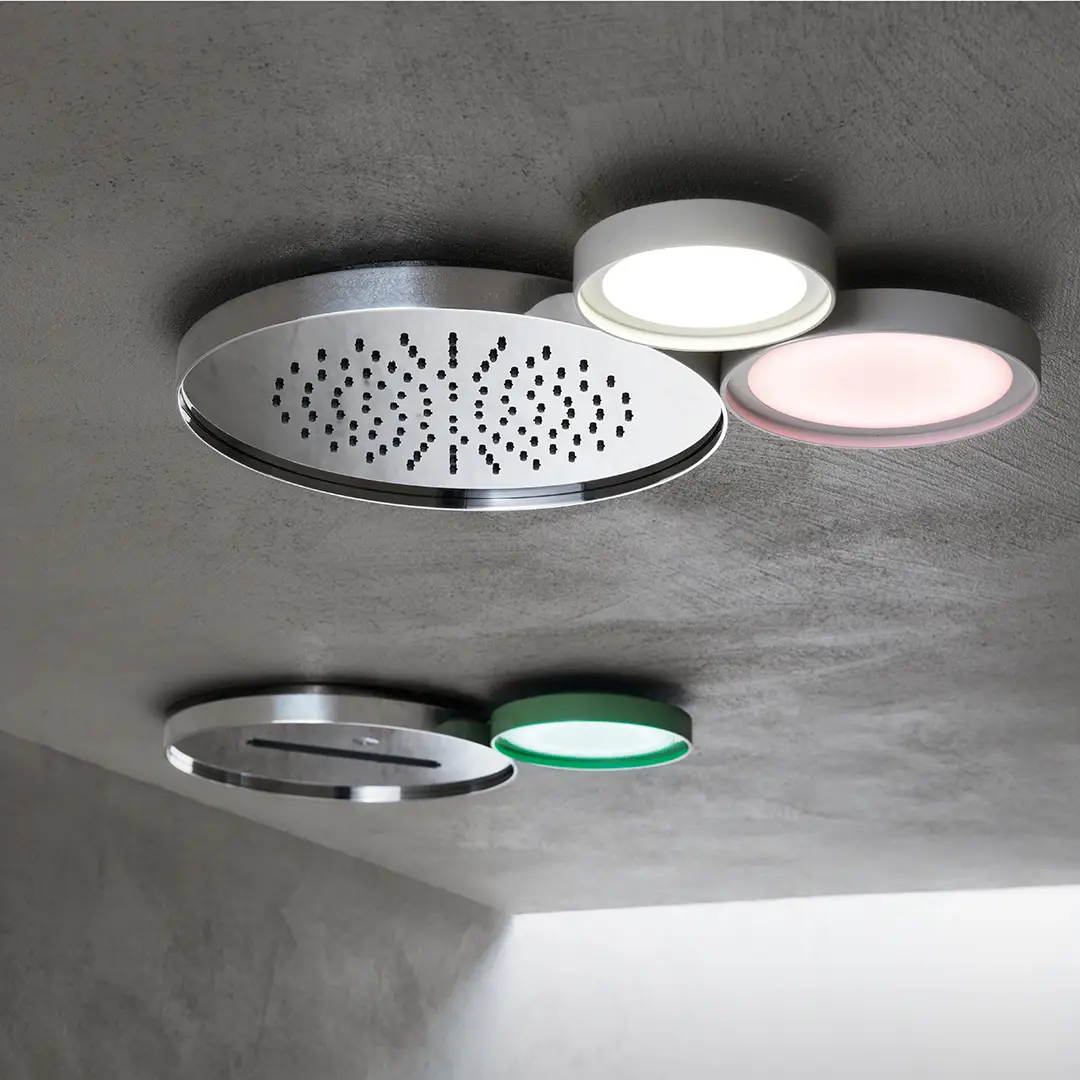 We have already mentioned here all the features that make the Ninfea Collection, created in collaboration with designer Antonio Canepa, one of AQUAELITE's workhorses.
Here too, light and water can merge to create a unique wellness experience. Thanks to the customisation of this product, the shower head can be combined at will with the AC023 A and AC024 A lamps with RGB lights. Both have a diameter of 160 mm and are equipped with a round polished steel push-button panel to control the lights.


AQUAELITE's Techno collection also offers the possibility of benefiting from the therapeutic effects of chromotherapy, thanks to the installation of LED lights in the false ceiling shower heads.
Made of 304L stainless steel, the showerheads in the series have a wide rainfall jet that intoxicates the entire body and 4 RGB LEDs that are easily controlled by a convenient light switch.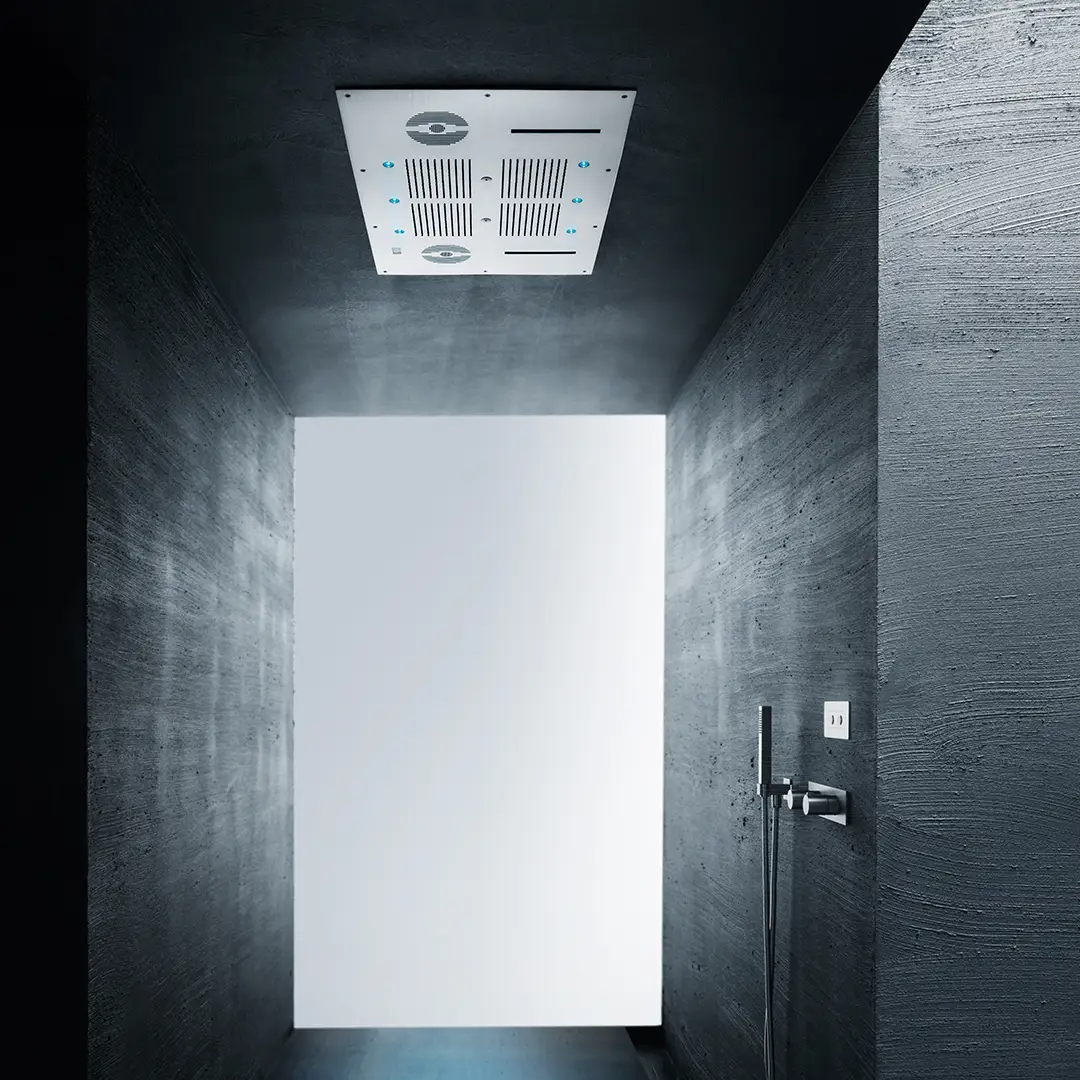 Conceived to design true wellness spaces, the overhead showers in the SPA Home AQUAELITE collection are integrated with full functionality to enjoy a relaxing and rejuvenating shower experience.
KT053 A is the complete wellness shower kit, in addition to colour therapy it gives you the possibility to connect a device to listen to music, a perfect solution for hotels and spas.
with:
> 4 jets: rain, double cascade, 2 mist spray e 3 water columns
> 4 RGB Led lights 
> Audio system with 2 x 150 watt speakers and Bluetooth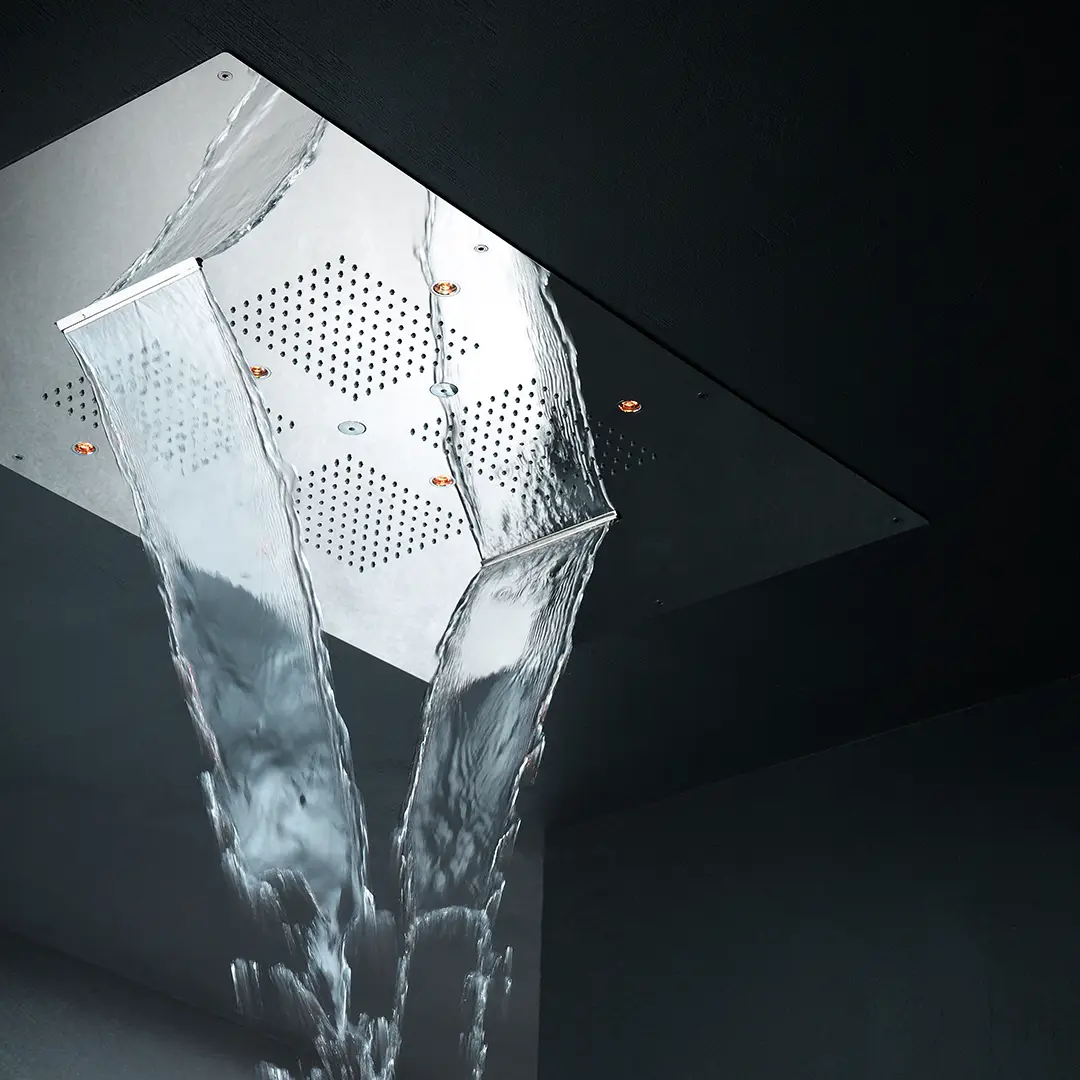 There are many possibilities offered by AQUAELITE to benefit from the effects of colour therapy directly at home by recreating your own SPA. Or, in wellness centres by granting a highly professional service to their clients.


"Our products are not only pleasing to the eye. They are the result of aesthetic reflection and personal passion. We don't just design, we translate our way of conceiving the shower ritual by giving it form, value and functionality".
Paolo Civelli CEO of AQUAELITE.
Transform your environment into a haven of well-being and relaxation with AQUAELITE products.